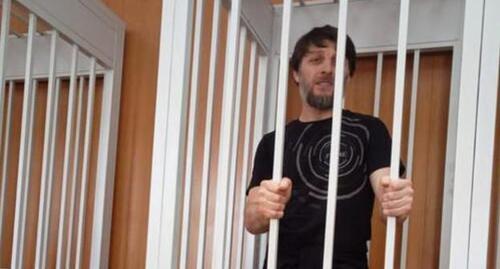 21 March 2023, 17:24
Court of Appeal points to violations in Ingush Daud Mamilov's case
The Court of Appeal has returned the case of Daud Mamilov, a native of Ingushetia, who was found guilty of involvement in the activities of the "Islamic State"* and sentenced to eight years in prison. The case was returned to the first-instance court to eliminate the violations, since the defendants were not familiarized with the protocol of the court session, the advocate has explained. Aza Mamilova, Daud's wife, said the family faced difficulties after his arrest.
The "Caucasian Knot" has reported that in August 2020, a court in Moscow agreed with the arguments of Mamilov's advocates and admitted investigators' inaction in his case. In September 2020, Mamilov stated that he had been forced to confess.
According to investigators, five people, including Mamilov, created a clandestine cell of the "Islamic State"*, a terrorist organization banned in Russia. In June 2020, more than 70 residents of Ingushetia vouched for Daud Mamilov to no avail. The detainee's father, Zakriy Mamilov, an MP of the People's Assembly (Parliament) of Ingushetia, who opposed the agreement on Ingush-Chechen border, has linked his son's prosecution with his political activities.
The Military Court of Appeal has sent the case to the first-instance court of in connection with a significant violation of the defendant's rights Lyudmila Tolstonogova, an advocate, has stated. She has noted that this was not for the first time that a first-instance court of had committed violations, and that the defence had been forced to send complaints to the court of appeal more than once.
After Daud Mamilov's detention, his father died, after which the family found itself in even more difficult situation, Aza Mamilova, Daud's wife, has stated. According to her story, the father-in-law had a hard time, as he took over all the worries about his son's family.
*The "Islamic State" (IS, formerly ISIL) is a terrorist organization banned in Russia by the court.
This article was originally published on the Russian page of 24/7 Internet agency 'Caucasian Knot' on March 21, 2023 at 08:02 am MSK. To access the full text of the article, click here.
Author: Amina Zakaeva Source: СK correspondent