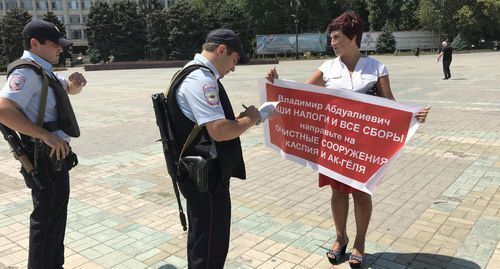 24 March 2023, 18:23
Activist Larisa Bachieva arrested for two months
A court in Makhachkala has appointed two months of arrest for Larisa Bachieva, who is accused within the case of an extremist organization. Her defence insisted on house arrest; the court ruling will be appealed against, a relative of Bachieva has informed.
The "Caucasian Knot" has reported that the inquiry into the criminal cases of Tatiana Fomina and Zainulla Abdullaeva, residents of Dagestan, accused of organizing and participating in the activities of the extremist organization "USSR"*, has been completed. Another supporter of the "USSR"* Larisa Bachieva was put on the wanted list. On March 17, her relatives reported her detention.
The defence asked to release Bachieva under house arrest without detention, but the court arrested her for two months, said her relative. According to the source, the court was presented with documents stating that Bachieva has a seriously ill minor child, but in vain.
The advocate has also stated that Bachieva has no way to hide from law enforcement bodies, since she currently has no passport of a Russian citizen.
Let us remind you that the ideas of supporters of the extremist organization "USSR"* are unpopular in Dagestan. This was pointed by the journalists, who commented on the criminal case on the "USSR"* unit revealed in Makhachkala. Those who still treat themselves as citizens of the Soviet Union have nothing to do with communists, said Alexander Verkhovsky, a human rights defender.
This article was originally published on the Russian page of 24/7 Internet agency 'Caucasian Knot' on March 23, 2023 at 05:43 pm MSK. To access the full text of the article, click here.
Source: СK correspondent