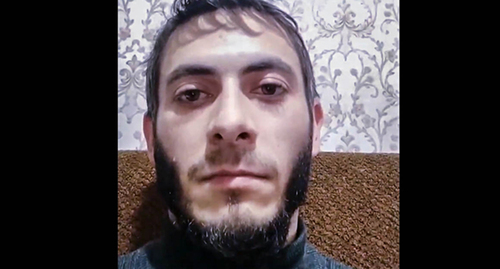 26 March 2023, 14:27
Messages on behalf of Chechen Arsamikov spark rights defenders' mistrust
The chat messages posted on behalf of Idris Arsamikov, who was detained by Chechen law enforcers, give no grounds to assert that he is alive, human rights defenders have pointed out. In this story, publicity is crucial, but no petition in his defence will affect authorities' position, they believe.
The "Caucasian Knot" has reported that on February 16, 2023, the SK SOS Crisis Group reported that the 28-year-old Idris Arsamikov, who had returned from the Netherlands to Russia for his father's funeral, was detained at the airport, when he was trying to fly out of Russia, and handed over to Chechen law enforcers. On February 27, ten human rights organizations called for the release of Arsamikov.
On February 17, a video appeared in social networks in which Arsamikov stated that he was at home in Chechnya and intended to go to Ukraine to take part in the special military operation (SMO) there. The video was made under duress, the SK SOS Crisis Group then suggested.
By March 23, the petition in support of Arsamikov had gained more than 8000 signatures, but almost nothing is known about his fate, the SK SOS Crisis Group has informed in its Telegram channel.
"Idris was probably allowed to use his phone under strict control. We are getting reports that Idris is getting in touch with the members of the chat of our channel and even posts photos. This means that the petition was noticed; and Chechen authorities are trying to reduce the degree of public pressure," says the Group's message.
The online activity conducted on behalf of Arsamikov does not allow us to claim that he is alive, Svetlana Gannushkina, the chair of the "Civic Assistance" Committee*, has stated. As an example, she has recollected the disappearances of Zelimkhan Bakaev and Salman Tepsurkaev.
Usually in such cases, publicity helps to put some pressure on Chechen authorities, Ms Gannushkina has added. "In general, Chechen authorities, of course, do not want to look like barbarians; and, perhaps, such a number of signatories (to the petition) have forced them to give him a phone or publish a photo," she said.
Oyub Titiev, a Chechen human rights defender, also finds it premature to draw conclusions about Arsamikov's fate based on the reports posted on his behalf. "It is quite possible that someone had used his phone to show his activity in social networks and give hope that everything is fine with him," Mr Titiev has stated.
He finds publicity important, but does not believe that it can fundamentally influence any Chechen authorities' decisions.
A similar opinion was expressed by Ruslan Kutaev, the President of the Assembly of Caucasian Nations.
This article was originally published on the Russian page of 24/7 Internet agency 'Caucasian Knot' on March 25, 2023 at 04:58 pm MSK. To access the full text of the article, click here.
Author: Roman Kuzhev Source: СK correspondent