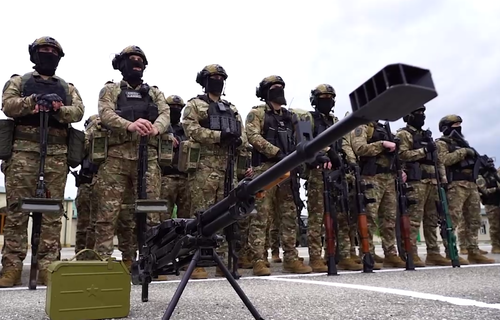 14 May 2023, 23:55
Kadyrov announces losses of "Akhmat-Grozny" OMON Unit
Over the 23 years of the existence of the "Akhmat-Grozny" OMON (riot police) Unit, a total of 121 its fighters have perished, Ramzan Kadyrov has stated without specifying how many of them perished in the Russia's special military operation (SMO) in Ukraine.
Related news: after the outbreak of hostilities in Ukraine, a lot of rumours and conjectures have appeared about the Chechen fighters. Chechen security forces have been seen on the territory of Ukraine almost from the very beginning of Russia's special military operation. Read about the OMON (mobile special-purpose detachment, or riot police) "Akhmat-Grozny", a special unit within the "Rosgvardiya" (Russian National Guard), which takes part in hostilities in Ukraine, in the reference material of the "Caucasian Knot" "Main facts about "Akhmat-Grozny" Special Unit".
Since the start of the SMO, the total number of residents of Chechnya, whose deaths have been officially confirmed, has reached 102 people.
On February 15, 2023, Kadyrov stated that the heads of the regions should not report the number of those who perished in the SMO, but simply help their families, and urged "not to comment on the losses."
Kadyrov has stressed that fighters of the "Akhmat-Grozny" OMON Unit "have been involved in the most difficult areas since the first days of the SMO," in particular, they are conducting "the work to liquidate sabotage and reconnaissance groups," he has written in his Telegram channel.
However, in Ukraine, the units of Chechen fighters play only an auxiliary role, by carrying out cleansings, sweeping areas and performing guarding of facilities; they don't perform the functions of combat units, assault squads or military police. Meanwhile, Ramzan Kadyrov reports on the liberation of dwelling settlements, and talks about meetings with the "hospitable and friendly" local population.
This article was originally published on the Russian page of 24/7 Internet agency 'Caucasian Knot' on May 13, 2023 at 08:55 pm MSK. To access the full text of the article, click here.
Source: Caucasian Knot