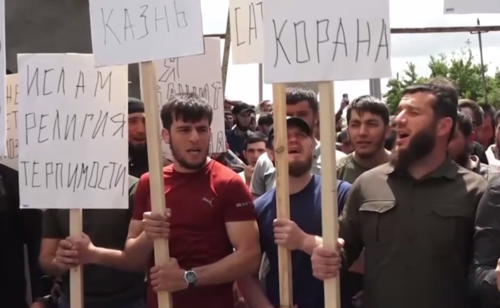 29 May 2023, 14:17
Social network users outraged by sending Nikita Zhuravel to Chechnya
The trial of Nikita Zhuravel, a figurants in the case of burning down the Koran, should be held at the crime scene, that is in Volgograd, and his transfer to Chechnya gives rise to fear for his life, Instagram* users have indicated.
The "Caucasian Knot" has reported that on May 20, Nikita Zhuravel, who had filmed a video of burning of the Koran, was detained in Volgograd. During the interrogation, he stated that he had done it at the direction of Ukrainian special services. On May 21, Alexander Bastrykin, the Chairman of the Investigating Committee of the Russian Federation (ICRF), ordered that Zhuravel's criminal case be transferred to Chechnya. Today, Nikita was placed into the SIZO (pre-trial prison) in Grozny; local residents gathered near the building and demanded that the Volgograd citizen be severely punished.
At the action held near the SIZO, residents of Chechnya expressed their indignation at the burning of the Koran, the "Chechnya Today" News Agency reports. "We are very glad that this man was transferred to our republic. We will correct him; we'll show him that he was wrong. No one will torture or kill him. I am sure that in a month he will think completely differently," the agency quotes one of the participants of the action.
The "Caucasian Knot" reader named brady has treated the action near the Grozny SIZO as "a cheap show." "The staged nature of this action is beyond doubt," he has written.
A number of users have suggested that Nikita will face severe punishment. "I think they'll kill him in jail," the user ilyasova95_ has written.
This article was originally published on the Russian page of 24/7 Internet agency 'Caucasian Knot' on May 27, 2023 at 11:18 pm MSK. To access the full text of the article, click here.
Source: Caucasian Knot