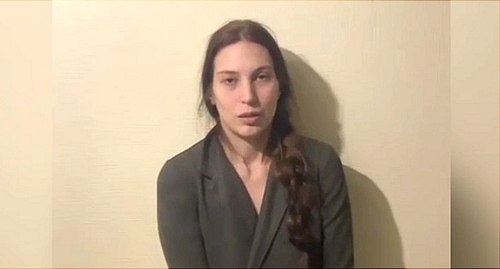 30 May 2023, 01:38
Ukrainian woman fined in Sochi for her post on social media
In Sochi, a court fined Ukrainian citizen Svetlana Matukhnova 30,000 roubles, recognizing her post on the social media in support of her country to be discrediting the Russian Armed Forces.
The "Caucasian Knot" has reported that on April 27, the Central District Court of Sochi received the third administrative case against 31-year-old Ukrainian citizen Svetlana Matukhnova, who lives in Sochi.
On April 19, Svetlana Matukhnova was arrested for five days on the charge of displaying symbols of extremist organizations. On April 24, a court sentenced her to eight days of arrest, finding her guilty under the article "Incitement of hatred or enmity, as well as humiliation of human dignity."
The court fined Svetlana Matukhnova for posting on Instagram* a photo in yellow and blue clothes and a signature with words in support of Ukraine, the "Kavkaz.Realii"** reports.
Earlier, a video was posted on the Internet in which Svetlana Matukhnova apologized to "the Russian citizens and the Armed Forces of the Russian Federation for publicly insulting them on the social network." The woman clarified that she does not consider "Russian people to be bad people."
*On March 21, 2022, the Tverskoi Court of Moscow banned the activities in Russia of the Meta Company, owning Facebook, Instagram, and WhatsApp, in connection with extremist activities.
**Included by the Russian Ministry of Justice (MoJ) into the register of foreign agents.
This article was originally published on the Russian page of 24/7 Internet agency 'Caucasian Knot' on May 28, 2023 at 05:30 pm MSK. To access the full text of the article, click here.
Source: Caucasian Knot