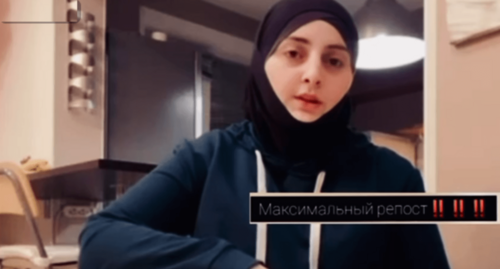 01 June 2023, 12:37
Judge forbids Apti Visaev's wife to attend his trial
A court in Khabarovsk has banned Aisha Mutaeva, the wife and public defender of the Chechen-born Apti Visaev, who is accused of plotting a terror act, from attending the sessions.
The "Caucasian Knot" has reported that in March this year Aisha Mutaeva reported that her husband's case was "unexpectedly and without explanations" transferred from Krasnoyarsk to the military court in Khabarovsk. She then complained that paying advocates' travels would hurt the family's budget.
In April 2021, Visaev went to Pyatigorsk with his wife and children, where he planned to stay for medical treatment. There, he was detained on charges of aiding terrorism. His criminal case is based on testimonies of two secret witnesses. According to investigators, Visaev persuaded one of them to blow himself up at the May 9 parade in Norilsk.
The reason for Mutaeva's removal from the courtroom was, in the judge's opinion, in her posts in the Telegram channel with photos from the court sessions. However, she insists that she had taken no photos and videos in the courtroom, the "Kavkaz.Realii"* project reports.
According to Mutaeva, she was not allowed to see her husband before his departure to the SIZO (pre-trial prison).
Let us remind you that in April Aisha Mutaeva reported that the court refused to add to the case files the results of an independent examination of the messages, which, according to investigators, Visaev had sent to the above secret witness. According to Mutaeva, the examination outcomes proved her husband's innocence.
The current prosecution of Visaev has to do with his earlier conviction for links with Chechen militants, Igor Kalyapin and Oyub Titiev, human rights defenders, believe. Visaev's defence treats the case as fabricated.
This article was originally published on the Russian page of 24/7 Internet agency 'Caucasian Knot' on May 31, 2023 at 11:40 am MSK. To access the full text of the article, click here.
Source: Caucasian Knot