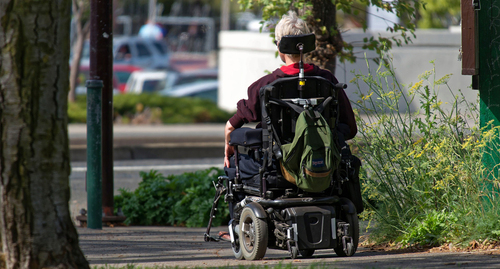 01 June 2023, 22:51
Activists convince court of disabled people's rights violation by Makhachkala bureaucrats
The court has satisfied the lawsuit lodged by the activists who demanded from Makhachkala authorities to make sidewalk ramps wheelchair-friendly, human rights defenders have reported.
During the reconstruction of Korkmasov Street in Makhachkala, the interests of people moving in wheelchairs were not taken into account, and due to the narrowing of the roadway, there is a risk of increasing traffic jams in the city centre, Ziyautdin Uvaisov, head of the human rights organization "Patient and Housing and ZhKKh (Communal Services) Monitor", said in April 2022, stressing that should violations were not eliminated, then human rights defenders would seek that in court.
The court has satisfied the activists' lawsuit against the officials, the above Monitor has reported in its Telegram channel.
The report says that sidewalk exits "are such that it is impossible for people in wheelchairs to descend on them."
"Organizations ... are actively fighting for the right not to make ramps, for the right to lock the disabled people at home, for the right to deprive them of going to the park or even to the store," the "Patient and ZhKKh Monitor" has stated.
An authorities' representative has stated in court that "Alieva's rights end outside her yard."
Entrances to many state institutions in Makhachkala are not equipped with ramps, which violate the rights of people with disabilities; and human rights activists have to seek the installation of ramps in courts, but about 30% of complaints are not satisfied by judges, activists explained in August 2021.
This article was originally published on the Russian page of 24/7 Internet agency 'Caucasian Knot' on May 31, 2023 at 12:39 pm MSK. To access the full text of the article, click here.
Source: Caucasian Knot