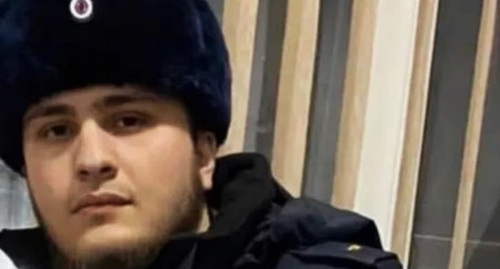 03 June 2023, 15:15
Lawyers point to possible travel ban in case of Chechen policeman Khalidov
There is no information about the whereabouts of Chechen policeman Yasin Khalidov after his detention at the border with Kazakhstan, and the law enforcement bodies did not respond to complaints filed by lawyers, human rights defender Oyub Titiev reported. According to the lawyers' explanations, former law enforcers who did not have any access to state secrets may leave the country, while law enforcers in service may be subject to restrictions in the context of the special military operation in Ukraine.
The "Caucasian Knot" has reported that 19-year-old Yasin Khalidov was detained at a checkpoint in the Omsk Region while trying to cross the border between Russia and Kazakhstan. Earlier, the young man tried to quit his service so as not to return to the special military operation zone. Human rights defenders believe that Yasin Khalidov is in danger in the republic.
The whereabouts of Yasin Khalidov is still unknown, human rights defender Oyub Titiev notes.
A law enforcer dismissed from service is not restricted by law in movement and may go abroad, explains lawyer Abusupyan Gaitaev. As for law enforcers in service, they are prohibited from leaving Russia without permission. "However, there may be no criminal punishment for that, only disciplinary punishment," the lawyer suggests.
Law enforcers in service have minimal chances to leave Russia, lawyer Timofei Shirokov notes.
This article was originally published on the Russian page of 24/7 Internet agency 'Caucasian Knot' on June 2, 2023 at 10:22 pm MSK. To access the full text of the article, click here.
Source: СK correspondent