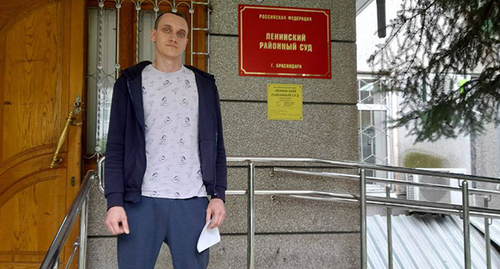 06 June 2023, 22:56
Four Krasnodar residents fined after solidarity actions with Navalny*
Courts in Krasnodar have fined three activists, who held solo pickets in support of Alexei Navalny*, and the man who made photos of these actions.
The "Caucasian Knot" has reported that on June 4, Alexei Navalny*'s birthday, solo solidarity actions were held in many cities of Russia, including Volgograd, Krasnodar, Makhachkala and Sochi. At least three activists were detained.
Also, about 30 people sympathizing with Navalny* held a secret "protest walk" in Volgograd. They explained their refusal to hold open solidarity actions with the convicted oppositional politician by the fear of criminal prosecution.
On June 4, in Krasnodar, the local residents, Danila Zinner, Pavel Myrzin, Victor Kudarenko and Aleksey Natalenko were detained. They spent the night at the police station; and the court imposed fines on them under the articles on discrediting the Russian Army and promoting extremist symbols, the human rights project "OVD-Info"** reports.
Let us add here that in Yerevan on June 4, Russian migrants at a rally in honour of Navalny*'s birthday demanded the release of all political prisoners in Russia. According to the organizers, more than 300 people took part in the action.
*Navalny's offices are recognized as extremist organizations and banned in Russia. Alexei Navalny is a founder of the Anti-Corruption Foundation (known as FBK), an NCO that is included by the Russian Ministry of Justice (MoJ) into the register of NCOs performing functions of a foreign agent. The NCO is also recognized by a court as extremist and banned in the territory of Russia.
**Included by the Russian Ministry of Justice (MoJ) into the register of foreign agents.
This article was originally published on the Russian page of 24/7 Internet agency 'Caucasian Knot' on June 5, 2023 at 05:25 pm MSK. To access the full text of the article, click here.
Source: Caucasian Knot