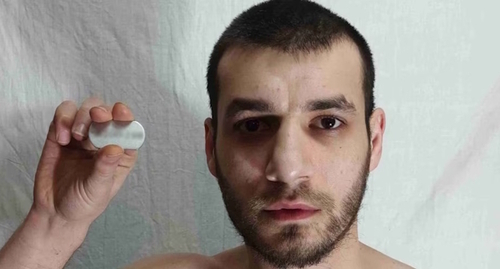 06 June 2023, 23:12
Son of Chechen field commander Ruslan Yamadaev killed in hostilities in Ukraine
During the special military operation (SMO) in Ukraine, Said-Khusein Yamadaev, a son of Ruslan Yamadaev, has perished. He was recruited into the "Wagner" Private Military Company (PMC) in the colony, where he was serving his term within a robbery case, sources have informed.
The "Caucasian Knot" has reported that Ruslan Yamadaev, a former Chechen field commander and Hero of Russia, was shot dead on September 24, 2008, in Moscow. The killer shot him through the car window. On October 18, 2010, the court sentenced Aslanbek Dadaev, a resident of Chechnya, to 20 years in prison for killing Ruslan Yamadaev; his accomplices Elimpash Khatsuev and Timur Isaev were sentenced to 15 and 14 years in jail, accordingly.
The Chechen family clan of Yamadaev is no less famous than the Kadyrov one. Sulim Yamadaev, a former commander of the "Vostok" (East) battalion, was killed in 2009; and Ruslan (Khalid) Yamadaev, a former State Duma MP, was killed a year earlier in Moscow. Isa and Badrudi Yamadaev had expressed their confidence that authorities of Chechnya were behind these crimes. Ramzan Kadyrov categorically denied his involvement in them.
As reported by the opposition Telegram channel "Niyso", Said-Khusein Yamadaev was serving his term in colony, where he recruited into the "Wagner" PMC.
In December 2021, Said-Khusein Yamadaev recorded a video message to Russian President Vladimir Putin complaining about the violation of inmates' rights in the colony. He reminded Putin that he was the son of the Hero of Russia. Said-Khusein Yamadaev was sentenced to 11 years in jail as a figurant in a 2014 robbery case against a businessman in Moscow.
When Said-Khusein was at the SIZO (pre-trial prison), photos from his cell appeared on the Instagram*, which showed a plasma TV-set, a refrigerator and an electric stove. In other photos, Yamadaev and his cellmate seem to be drinking alcohol; and strawberries were visible on the table. Besides, selfies of Yamadaev with the SIZO staff were posted in the social network. After the appearance of the photos, the prosecutor's office appointed a check, the "Life.ru" outlet reported on May 30, 2016.
*On March 21, 2022, the Tverskoi Court of Moscow banned the activities in Russia of the Meta Company, owning the Facebook, Instagram, and WhatsApp, in connection with extremist activities.
This article was originally published on the Russian page of 24/7 Internet agency 'Caucasian Knot' on June 6, 2023 at 07:37 am MSK. To access the full text of the article, click here.
Source: Caucasian Knot