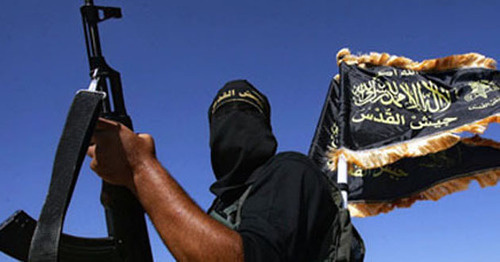 24 June 2015, 17:22
"Islamic State" accepts pledges of allegiance from North-Caucasian militants
The "Islamic State" (IS), recognized as a terrorist organization, has announced the establishment of its branch in Northern Caucasus. This statement was made after Caucasian militants took an oath to the IS leader, said the international NGO named "Institute for the Study of War".
The "Caucasian Knot" has reported that on June 21, a message was posted on the YouTube that the militants of the vilayets of Dagestan, Nokhchijcho (Ichkeria), Galgaiche (Ingushetia) and Kabarda, Balkaria and Karachay pledged their allegiance to the leader of the "Islamic State" (IS, earlier – the ISIL – Islamic State of Iraq and the Levant), which was recognized to be a terrorist organization.
According to the international NGO "Institute for the Study of War" (ISW), the establishment of the IS branch was declared by the IS press-secretary Abu Mukhammad al-Adnani. According to his audio record, posted on the IS website, Abu Mokhammad al-Kadari was appointed to be the leader of the IS branch in Northern Caucasus.
"The statement of Abu Mukhammad al-Adnani followed the appeal of the supporters of the IS, made in the Russian language, to the IS leader Abu Bakr al-Baghdadi. They swore to him on behalf of the militants in Dagestan, Chechnya, Ingushetia and KBK (Kabarda, Balkaria and Karachay)." At the same time, the other two administrative units of "Imarat Kavkaz" – the Cherkessia and the Nogai Steppe – have not officially sworn to the IS," says the analytical material posted on June 23 on the website of the ISW.
Full text of the article is available on the Russian page of 24/7 Internet agency 'Caucasian Knot'.