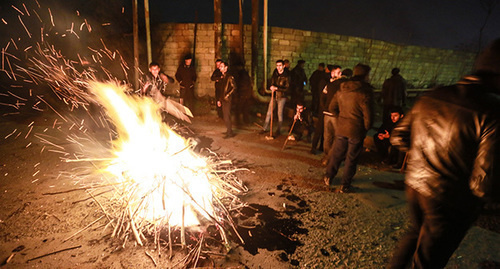 25 January 2017, 17:13
Defendants in "Nardaran case" sentenced to 10-20 years of imprisonment
In Baku, the court has sentenced Talekh Bagirzade, the leader of the movement "Muslim Unity", and his deputy Abbas Guseinov, accused in the case of the riots in the Azerbaijani village of Nardaran, to 20 years of imprisonment. Other 17 defendants were sentenced to 10-20 years of imprisonment.
The "Caucasian Knot" has reported that the defendants claimed being tortured by law enforcers and pleaded not guilty. Azerbaijani human rights defenders treated defendants in the case as political prisoners.
The verdict was pronounced at the Baku Court of Grave Crimes in an atmosphere of enhanced security measures. Journalists were not allowed to enter the courtroom.
About 200 believers gathered outside the courthouse. When they heard the defender's speech, they were chanting for several minutes the slogans in praise of Allah and Imam Hussein, a grandson of the Prophet Muhammad, revered by Shiites.
"The procedure of pronouncement of the verdict, like the judicial investigation, was carried out with gross violations... The very verdict was in fact a copy of the indictment, where the evidences given by policemen-witnesses were distorted," said advocate Yalchin Imanov. He has announced his intention to appeal against the verdict.
Full text of the article is available on the Russian page of 24/7 Internet agency 'Caucasian Knot'.
Author: Faik Medzhid Source: CK correspondent