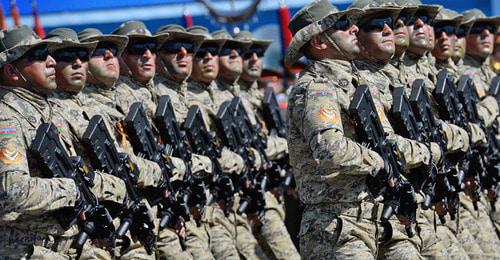 12 January 2018, 06:04
Armenian rights defenders note a decrease in military losses in 2017
60 soldiers and officers of Armenia deceased in 2017. Of them, 22 were killed as a result of violation of the ceasefire regime and non-combat losses amounted to 38 people, reports the Vanadzor Office of the Helsinki Civil Assembly. According to the organization, in 2016, the losses of the Armenian armed forces amounted to 175 people.
The "Caucasian Knot" has reported that according to the Caspian Defence Studies Institute (CDSI), in 2017, 119 soldiers and officers from Azerbaijan, Armenia and Nagorno-Karabakh were killed, including 78 non-combat losses.
The ratio of combat and non-combat losses has changed since 2014, after the tension in the conflict zone increased, stated Arthur Sakunts, the head of the Vanadzor Office of the Helsinki Civil Assembly.
He has noted that until 2014, combat losses in the armed units of Armenia were 20-25% of the total number of deaths. However, since 2014, the ratio of combat losses changed to 50-55%.
In 2016, high rates of losses could be explained by the April combat actions in Nagorno-Karabakh, reported Artsrun Ovannisyan, the press secretary for the Ministry of Defence (MoD) of Armenia.
He has noted that in 2017, combat and non-combat losses decreased.
The Armenian MoD's press secretary also denied allegations that the MoD tries to hide information about the deceased soldiers and officers. According to Artsrun Ovannisyan, the Armenian MoD discloses information about the death of a soldier or an officer after relatives are informed of his death.
Full text of the article is available on the Russian page of 24/7 Internet agency 'Caucasian Knot'.
Author: Faik Medjid Source: CK correspondent