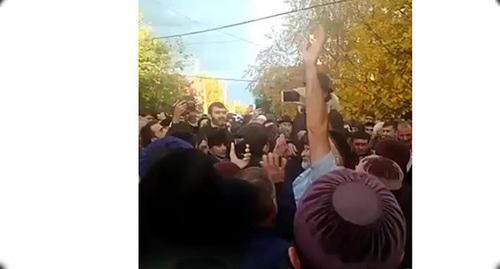 26 October 2018, 21:53
Pogorov states reconciliation with Kadyrov
The head of Chechnya and a number of his close associates have "warmly communicated" with the Ingush activist Akhmed Pogorov; the Chechen leaders apologized to Ingushes, Pogorov himself have stated.
The "Caucasian Knot" has reported that on October 24, on behalf of Ramzan Kadyrov, Magomed Daudov, Speaker of the Chechen parliament, arrived in the Ingush village of Novy Redant and summoned Elder Akhmed Barakhoev to the Sharia court because of his statement voiced at the rally in Magas. Akhmed Barakhoev did not refuse the Sharia court, but refused to come to Ramzan Kadyrov, the "Glavkom RI" Telegram Channel reports.
On October 16, Ramzan Kadyrov promised to "ask" from one of the leaders of the protest in Ingushetia, a former Interior Minister Akhmed Pogorov, for a number of statements made by him at a rally and addressed to Kadyrov. Akhmed Barakhoev, a member of the organizing committee of the rally, answered to Kadyrov by inviting him to come and personally express his claims to Pogorov and his associates. "I told your Daudov at the meeting with Matovnikov that your manner of knocking on the table with your fist will not work here," Mr Barakhoev said during the protest rally.
Ramzan Kadyrov's meeting with Akhmed Pogorov took place in Karabulak today and lasted for more than an hour, an informed source has stated, adding that the meeting was attended by the elders of the Ingush villages and members of Pogorov's clan. Pogorov himself has noted that Kadyrov was accompanied by the Mufti of Chechnya, Salakh Mezhiev, the Speaker of the Chechen Parliament, Magomed Daudov, and Adam Delimkhanov, a State Duma MP.
Pogorov has confirmed that the meeting ended with reconciliation. "We talked warmly, forgave each other mutual reproaches and, according to our customs and befits of highlanders, came to reconciliation. We drank tea with our guests and also performed a joint prayer in my house," the "Interfax-South" quotes the activist as saying.
Going out to the crowd after the meeting, Akhmed Pogorov said that the parties "pronounced mutual apologies," while Kadyrov and members of his delegation "apologized to the Ingush people for their words," says the message of the "Ingushetia_2018" Telegram channel.
This article was originally published on the Russian page of 24/7 Internet agency 'Caucasian Knot' on October 26, 2018 at 06:59 pm MSK. To access the full text of the article, click here.