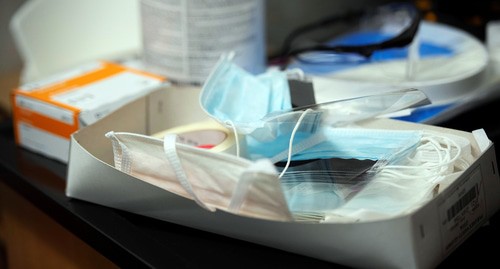 20 March 2020, 14:18
Analysts criticize restrictions on press freedom in Armenia ascribed to coronavirus
The Armenian Police have warned three online editions for their posts about the spread of coronavirus in the world. The demand to restrict publications on this topic under the state of emergency is absurd and creates unnecessary problems in the information environment, the analysts interviewed by the "Caucasian Knot" believe.
The "Caucasian Knot" has reported that on March 16, 2020, the Armenian government decided to impose the state of emergency in the country in order to prevent the spread of coronavirus.
The Armenian Police has warned the editorial board of the "Aravot" online edition about the threat of a fine of 500,000 drams (USD 1016) for publishing data on coronavirus under the state of emergency regime introduced in the country, Anna Israelyan, the editor-in-chief of the "Aravot" told the "Caucasian Knot" correspondent.
According to her story, the police have treated the publication of an excerpt from an interview with Russian political analyst Valery Solovey on air of the "Ekho Moskvy" Radio about Russia's hiding the real statistics of the coronavirus epidemic, along with the statement of the Armenian Premier Nikol Pashinyan that not all countries publish reliable statistics, as a violation of the state of emergency regime.
"Warnings were made to more editions – the 'Iravunk' for an interview with a woman from Echmiadzin, who denied her involvement in the spread of the infection (the resonant engagement in Echmiadzin, – note of the "Caucasian Knot"), and the 'Graparak" for the news of dissatisfaction among prisoners for the ban on receiving parcels in connection with the state of emergency," Ms Israelyan has added.
The restrictions introduced in Armenia on the dissemination of information about the situation with coronavirus in the world are absurd, Shushan Doidoyan, director of the Freedom of Information Centre, told the "Caucasian Knot".
According to her story, there are no proofs that the publication in the "Aravot" has to do with the panic sentiments in Armenia. "To completely belittle the importance of the freedom of speech in these conditions is a wrong strategy. The more restrictions, the more people look for alternative information sources, often unreliable," Ms Doidoyan has concluded.
This article was originally published on the Russian page of 24/7 Internet agency 'Caucasian Knot' on March 20, 2020 at 10:15 am MSK. To access the full text of the article, click here.
Author: Tigran Petrosyan Source: CK correspondent