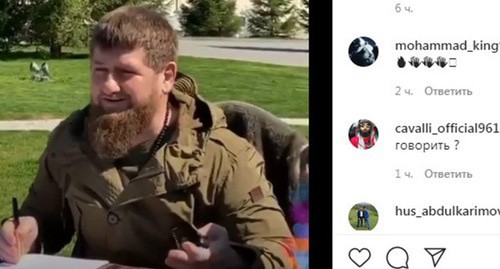 10 April 2020, 10:51
Kadyrov calls on his critics to leave Russia
The head of Chechnya has expressed his dissatisfaction with the comments in social networks about quarantine measures in Chechnya, and of the border agreement with Ingushetia. He advised the authors of such comments to leave the country.
The "Caucasian Knot" has reported that Kadyrov had repeatedly threatened his opponents in social networks, treating them as "button heroes." Thus, on November 4, 2019, he stated that the authors of negative materials about the republic and the social network users commenting thereon should be "killed and imprisoned."
Kadyrov has again mentioned "button heroes," who, as he said, are trying to write something negative about Chechens, or to oppose the head of Chechnya to the Russian President Vladimir Putin. Live on the Instagram, he advised critics to leave the country if they don't like living in it.
He has also criticized opponents of the 2018 Chechen-Ingush border agreement. According to his version, Ingushes and Chechens are one nation.
"I appeal to 'button heroes': if I say and do something, it is in the interests of the republic and to protect people from diseases and terrorism," the RIA "Novosti" quotes Kadyrov as saying.
This article was originally published on the Russian page of 24/7 Internet agency 'Caucasian Knot' on April 9, 2020 at 09:46 pm MSK. To access the full text of the article, click here.