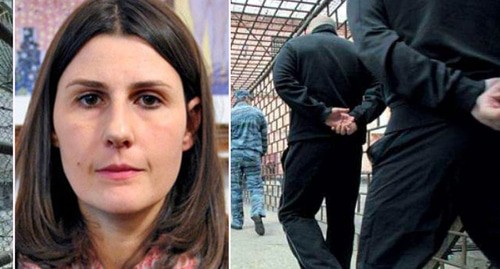 30 April 2021, 15:00
Rights defenders point to discrimination against North-Caucasian natives in colonies
On April 29, the Centre for Conflict Analysis and Prevention presented the report "North-Caucasian Muslims in Russian Jails: Human Rights, Adaptation Strategies, Risks of Radicalization and Post-Liberation Reintegration" in the online mode.
The Centre interviewed 30 recently released former prisoners from Chechnya, Ingushetia and Kabardino-Balkaria of various ages. The authors of the report note that people from Northern Caucasus face prejudiced attitude of the staff and other prisoners in Russian colonies; their rights to the freedom of religion and to the conditional early relief (CER) are often violated there.
Ekaterina Sokiryanskaya, the head of the above Centre, has explained the prejudice against natives from Northern Caucasus, among other things, by consequences of the Chechen Wars. "There's no doubt that these military campaigns left a negative imprint in law enforcers' minds. The human rights defenders who professionally deal with this topic say that the attitude towards Chechens, and along with them towards other Caucasian Muslims, has sharply deteriorated after the start of the first Chechen War, which was associated with the open anti-Chechen propaganda of the then federal media, and also with the fact that people who returned from the conflict zone began working for the FSIN (Russian Federal Penitentiary System)," Ms Sokiryanskaya has explained.
According to her story, the situation is such that the FSIN officers, who are not always able to distinguish radical forms of Islam from ordinary religiosity, see a danger in all Muslims. "On the other hand, at the same time, the authorities as a whole give the prison system a sort of carte blanche to violate prisoners' rights –the rights of everyone, not only Caucasians. In the overwhelming majority of cases, these violations remain unpunished," the author of the report has noted.
This article was originally published on the Russian page of 24/7 Internet agency 'Caucasian Knot' on April 30, 2021 at 10:37 am MSK. To access the full text of the article, click here.
Author: Rustam Djalilov Source: CK correspondent