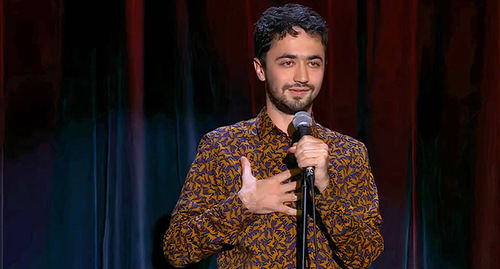 22 March 2022, 13:30
Court denies lawsuit of comedian Idrak Mirzalizade against Russian MIA
A Moscow court has denied the lawsuit lodged by Idrak Mirzalizade, a stand-up comedian, against the Ministry of Internal Affairs (MIA) with a demand to declare illegal his ban to enter Russia for 14 years. In his lawsuit, Mirzalizade asked to reduce the entry ban down to a year.
The "Caucasian Knot" has reported that on February 15, the MIA enforced the court ruling, cancelled Mirzalizade's life-long ban to enter Russia and set the 14-year-long ban.
On August 30, 2021, the MIA banned Idrak Mirzalizade, an ethnic Talysh, and a Belarusian citizen, who was arrested for joking about xenophobia, from entering Russia till the end of his life. After that, Mirzalizade left Russia and went, according to unconfirmed reports, to Turkey.
Russian state bodies declare foreign citizens undesirable persons formally, by violating the international law, lawyers had pointed out earlier.
Let us remind you that Mirzalizade's persecution was caused by the joke about problems with renting housing in Moscow. After his joke about xenophobes, the comedian was attacked and demanded to apologize, but he refused. He said he had received several thousand threats prior to the attack.
Talyshes are the people living in Azerbaijan and Iran.
This article was originally published on the Russian page of 24/7 Internet agency 'Caucasian Knot' on March 21, 2022 at 08:33 pm MSK. To access the full text of the article, click here.
Source: Caucasian Knot