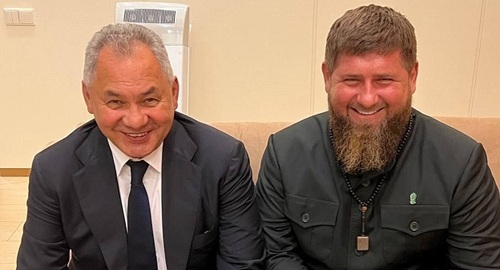 03 October 2022, 16:54
Kadyrov's statement accents his role in anti-Shoigu campaign
Ramzan Kadyrov's harsh criticism of the Russian Ministry of Defence (MoD) for the withdrawal of troops from Krasny Liman was coordinated with Moscow and became an episode of the campaign against the Defence Minister, Sergey Shoigu, Maxim Shevchenko, a journalist, and Andrei Gusij, a political analyst, have suggested.
The "Caucasian Knot" has reported that apart from the General Staff, the head of Chechnya criticized the general, who, in his opinion, commanded the Liman front section. Kadyrov has suggested declaring the martial law in the border territories and using nuclear weapons.
The developments near Krasny Liman were just a pretext for Kadyrov's "attack" on the top commanders of the armed forces, Maxim Shevchenko believes. In his opinion, Sergey Shoigu "has seriously stumbled and ceased to be a throne pillar."
Kadyrov "has pulled out the ins and outs of the cabinet into the public domain," Andrei Gusij, a Krasnodar political analyst, wrote in his Telegram channel. Kadyrov's statement was coordinated with Moscow, he has suggested.
Mr Gusij has noted that Kadyrov had earlier made statements mismatching the status of the head of a constituent entity of the Russian Federation.
This article was originally published on the Russian page of 24/7 Internet agency 'Caucasian Knot' on October 3, 2022 at 10:11 am MSK. To access the full text of the article, click here.
Source: Caucasian Knot