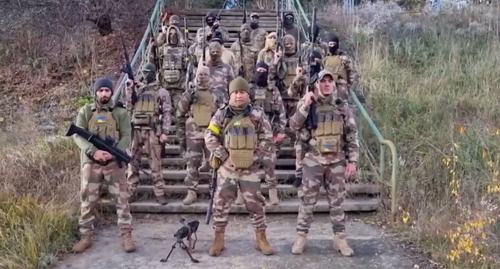 25 November 2022, 06:10
Kadyrov's declaring jihad was one of the reasons for creation of "Turan" battalion in Ukraine
The appearance in the Ukrainian Armed Forces of the battalion of the Turkic nations named "Turan" has nothing to do with Turkey and the Turkic countries. The battalion commander's polemic with Chechen leader, Ramzan Kadyrov, stems from religious not ethnic differences, analysts believe.
The number of Chechen units fighting on the side of Ukraine is growing; their combat experience is in demand, sources of the "Caucasian Knot" have reported. On March 3, 2022, Ramzan Kadyrov promised to pay USD 500,000 for each head of the Ukrainian battalion commanders, as well as of the Chechen battalion fighting on the side of Ukraine.
The message that a battalion of Turkic nationals "Turan" was formed in Ukraine was posted in the Telegram channel "Zona Kavkaza". The battalion is headed by Almaz Kudabek, a citizen of Kyrgyzstan. In the video, one of the fighters has stated that the head of Chechnya, Ramzan Kadyrov, had declared jihad by hiding behind Islam, and promised to "liquidate the Kadyrov's regime," the fighter said, adding that his comrades intended to fight the Russian Armed Forces and the Russian authorities.
Several Turkic nations live in Northern Caucasus; some of them belong to the indigenous population of the region, Akhmet Yarlykapov, an Islamic scholar, has noted. He doubted that the appearance of a battalion of Turkic nationals in the Ukrainian Armed Forces was due to the political influence of Turkey.
The very name of "Turan" speaks of the international nature of the battalion, and equally this appeal can be addressed to all Turkic nations, Ruslan Kutaev, the president of the Assembly of Caucasian Nations, has.
The creation of the "Turan" battalion is due to ethnic and religious solidarity with the Crimean Tatars, Sakhib Bekir, the editor-in-chief of the "Voice of Turkey" outlet, believes. He suggests that the Turkey's interests in Ukraine are opposite to those of Russia, since any strengthening of Russia's position in the region is generally undesirable for Turkey.
This article was originally published on the Russian page of 24/7 Internet agency 'Caucasian Knot' on November 24, 2022 at 08:02 am MSK. To access the full text of the article, click here.
Author: Alikhan Mamsurov Source: СK correspondent