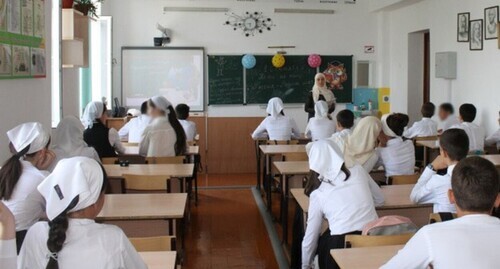 25 December 2022, 22:33
In Chechnya, teachers express their indignation about request to transfer donations to state fund
In Chechnya, schools were offered to transfer one-day earnings of teachers to the state fund to help orphans, the Ministry of Labour of the republic reported. Teachers in rural schools receive such low salaries that they themselves need support, educators complain.
Grozny was ranked the 95th in the ranking of the 100 largest cities in Russia in terms of wages in the first half of 2022. Furthermore, the lowest salary of school teachers in the country was recorded in Chechnya, as follows from the data released by the "Rosstat" (Russian Federal State Statistics Agency).
In December, the Achkhoi-Martan District Education Department received a request that teachers from all schools in the district transfer a voluntary donation in the amount of their one-day earnings.
Elina, a mathematics teacher at a local school, complains that her family budget does not allow her to make such donations. Few of her colleagues do not borrow money "till salary." According to Elina, the teachers, who expressed their dissatisfaction with the need to transfer again their one-day earnings to the state fund, were called by an administration official "heartless people and misers."
Seda, a school teacher, is not against helping orphans, but she considers it wrong to help them at the expense of people who themselves need help. "It's a sacred thing to help those who need help. However, why should it be done at the expense of those who need the help no less than citizens in a difficult situation? Is the situation of us, who existed on the verge of poverty, not difficult?" the school teacher expressed her indignation.
According to Seda, fifteen of her colleagues have children with disabilities. "Charity is a good thing, but why is money for orphans partially taken from other children, even if they are not orphans, but they are disabled, and they need funds for medical treatment," the school teacher said.
This article was originally published on the Russian page of 24/7 Internet agency 'Caucasian Knot' on December 23, 2022 at 08:15 am MSK. To access the full text of the article, click here.
Source: СK correspondent