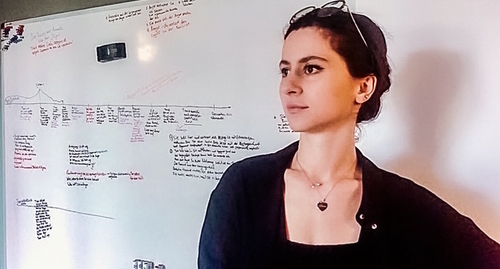 25 January 2023, 23:16
Film by Sokurov's pupil included into Berlin Film Festival programme
The film by Malika Musaeva, a pupil of the famous film director, Alexander Sokurov, entitled "A bird is looking for a cage" has been included into the Encounters programme of the Berlin Film Festival. The film, which tells the story of a Chechen family living in Ingushetia, featured non-professional actors who speak their native language.
The movie "A bird is looking for a cage" is the debut for Malika Musaeva. It was filmed in Ingushetia on the border with Chechnya. The roles in the film are played by ordinary locals who speak their mother tongue. Musaeva's work is dedicated to the fate of women, and an attempt to overcome the lack of freedom, the "Kommersant" writes.
Alexander Sokurov has said he was proud of his pupil and treated her work as "outstanding."
"She is one of my best pupils in the workshop I run in Nalchik," he told the RIA "Novosti".
The film was initially scheduled for screening at Cannes in 2022, but the organizing committee of that film festival refused to include it into its programme.
The 73rd Berlin Film Festival will take place on February 16-26. The Encounters programme will also feature the documentary "Eastern Front" by Vitaly Mansky and Evgeny Titarenko about the events in Ukraine, the "Interfax" has informed.
Earlier, the "Caucasian Knot" reported that at the 2019 Berlin Film Festival, the film "A Russian Boy" by Alexander Zolotukhin, another Sokurov's pupil, telling about the events of the First World War, was presented.
This article was originally published on the Russian page of 24/7 Internet agency 'Caucasian Knot' on January 24, 2022 at 05:53 am MSK. To access the full text of the article, click here.
Source: Caucasian Knot