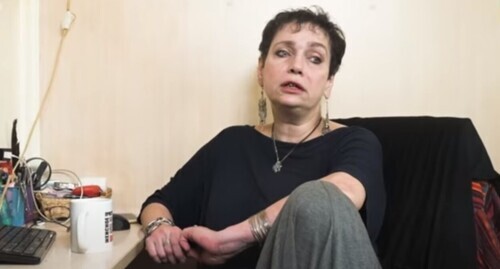 16 August 2023, 18:09
Law enforcers search house of journalist Svetlana Anokhina
Law enforcers conducted a search in a house of journalist and human rights defender Svetlana Anokhina in Dagestan. Svetlana Anokhina reminded that she left Russia two years ago.
On September 19, 2020, it became known that Svetlana Anokhina left Dagestan after the police had refused to investigate phone threats against her.
On April 12, Svetlana Anokhina reported about a visit of the police to a house where her elderly mother lived. The law enforcers asked the mother of the journalist about her post highlighting the events in Ukraine. Svetlana Anokhina requested the law enforcement bodies not to involve her 93-year-old mother.
On August 14, the law enforcers came to search the house of Svetlana Anokhina, a founder of the "Marem" human rights group, she reports on Facebook*.
The search may be related to the criminal case instituted against Svetlana Anokhina in April under the article on discrediting the Russian Armed Forces, the "OVD Info"** suggests.
The "Caucasian Knot" has also reported that in August 2022, Svetlana Anokhina announced that since 2020, she and the "Marem" human rights organization have succeeded in helping more than 50 women fleeing domestic violence leave Dagestan, Ingushetia, and Chechnya.
*On March 21, 2022, the Tverskoi Court of Moscow banned the activities in Russia of the Meta Company, owning the Facebook, Instagram, and WhatsApp, in connection with extremist activities.
**Included by the Russian Ministry of Justice (MoJ) into the register of foreign agents.
This article was originally published on the Russian page of 24/7 Internet agency 'Caucasian Knot' on August 15, 2023 at 10:39 am MSK. To access the full text of the article, click here.
Source: Caucasian Knot