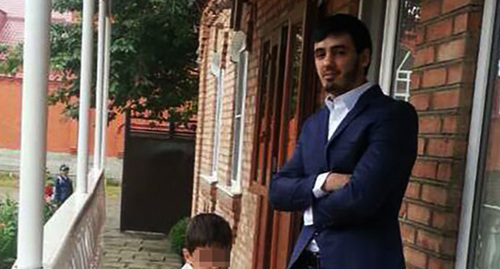 25 August 2023, 20:38
Ingush native Abdul-Malik Albagachiev goes on hunger strike in penal colony
Abdul-Malik Albagachiev told his advocate that he went on a hunger strike after one of the prisoners was beaten by employees of a penal colony in Astrakhan. The advocate sent complaints to the supervisory and law enforcement bodies with requests to bring the employees of the penal colony to justice. After that, the advocate learned that Abdul-Malik Albagachiev was transferred from the penitentiary institution.
The "Caucasian Knot" has reported that on March 19, human rights defenders complained about the torture conditions of detention of Abdul-Malik Albagachiev, a native of Ingushetia, in the penal colony. On July 30, after the convict had been transferred to another penal colony, he suffered an epileptic attack. Abdul-Malik Albagachiev asked employees of the penal colony for help, but a doctor came only two hours later. Relatives state that Abdul-Malik's increased epileptic attacks were caused by the consequences of the torture he had been subjected to by law enforcers.
In August 2018, Abdul-Malik  was sentenced to nine years of imprisonment. According to the investigators' version, since January 2015, the man fought in Syria against government troops. Abdul-Malik Albagachiev complained about torture during the preliminary investigation. In May, the man underwent surgery, and he was also prescribed medical treatment for epilepsy attacks.
Abdul-Malik Albagachiev said that on August 21, his condition worsened and he asked to call a doctor. An officer on duty of the Federal Penitentiary Service (known as FSIN) ignored the request and then, together with his colleagues, began to provoke the convicts. After that, according to the Abdul-Malik Albagachiev's story, about ten employees of the penal colony beat one of the prisoners to unconsciousness. Abdul-Malik Albagachiev suffered another epileptic attack at that time.
"In connection with such lawlessness, I refuse food. It feels like I am being kept in a secret prison where there is no justice, where prisoners have no rights," Abdul-Malik Albagachiev wrote to advocate Irina Biryukova. The advocate suggested that the actions of the FSIN officers demonstrated signs of abuse of power and negligence.
This article was originally published on the Russian page of 24/7 Internet agency 'Caucasian Knot' on August 24, 2023 at 08:12 pm MSK. To access the full text of the article, click here.
Source: СK correspondent