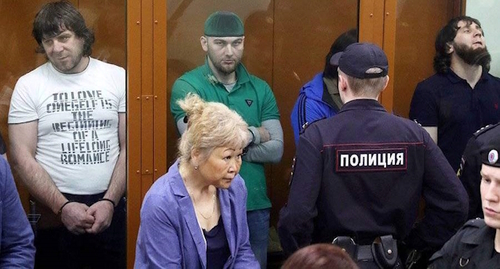 26 August 2023, 22:51
Advocate and journalist comment on Yashin's words about fate of convicts of Nemtsov's murder
The natives of Chechnya, convicted for assassinating Boris Nemtsov, could have signed contracts with the private military company (PMC); then, they were pardoned and returned to their homeland, Ilya Yashin, an oppositional politician, who is serving his term for discrediting the Russian Army, has stated. An advocate has informed that representatives of the suffered party will try to find out the fate of those convicted for the murder of Nemtsov.
Boris Nemtsov was shot dead in Moscow on February 27, 2015. On July 13, 2017, the court found the natives of Chechnya, Zaur Dadaev, Anzor Gubashev, Shadid Gubashev, Tamerlan Eskerkhanov and Khamzat Bakhaev guilty of committing the murder and sentenced them to prison terms of 11 to 20 years. Other figurants in the case are a Chechen officer Ruslan Mukhudinov, who is treated as the organizer of the murder, Beslan Shavanov, who was killed during detention, as well as Ruslan Geremeev, an officer of the "Sever" (North) Chechen battalion. The customer of the murder was not established.
"I cross paths with guys from Chechnya at prison assembling points. Almost all of them claim that Kadyrov's militants convicted of killing Nemtsov have been walking free for several months," Yashin's social networks assert. He himself was sentenced in December 2022 to 8.5 years of freedom deprivation for a YouTube broadcast during which he spoke about the murders of residents of the Ukrainian town of Bucha. He was found guilty of disseminating deliberately false information about the Russian Army based on political hatred.
According to Ilya Yashin, those convicted for murdering Boris Nemtsov had signed contracts with the PMC, "six months later they were pardoned by a presidential decree and now live quietly in Chechnya."
"These 'urban legends' that they had been released circulated there before," Vadim Prokhorov, one of Nemtsovs' advocates, has noted.
Nadezhda Kevorkova, a journalist, has questioned the reliability of the sources, while admitting that those convicted for assassinating Nemtsov could have been recruited for taking part in the SMO.
*Included by the Russian Ministry of Justice (MoJ) into the register of foreign agents.
This article was originally published on the Russian page of 24/7 Internet agency 'Caucasian Knot' on August 25, 2023 at 05:33 am MSK. To access the full text of the article, click here.
Source: СK correspondent