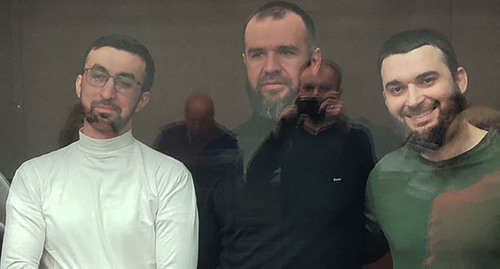 12 September 2023, 22:45
Gadjiev, Rizvanov and Tambiev sentenced to long prison terms
The Southern District Military Court in Rostov-on-Don has announced the verdict in the case of Abdulmumin Gadjiev, Abubakar Rizvanov and Kemal Tambiev, accused of financing terrorism. They were sentenced to terms from 17 to 18 years in prison.
The "Caucasian Knot" has reported that on June 22, 2023, the prosecutor demanded to sentence Abdulmumin Gadjiev, a journalist of the "Chernovik" (Draft) outlet, Abubakar Rizvanov, the head of the "Ansar" Charity Fund, and Kemal Tambiev, an activist, to 19 years in prison each. The prosecution failed to present any convincing proofs at the trial, the defendants stated in their final plea.
The court sentenced Gadjiev to 17 years, Rizvanov to 18 years, and Tambiev to 17.5 years of freedom deprivation accordingly.
Let us remind you that Abdulmumin Gadjiev, Abubakar Rizvanov and Kemal Tambiev have been under arrest since June 2019 on charges of financing terrorism. Investigators believe that they had raised 68 million roubles and USD 200,000 for terrorists under the pretext of building mosques and helping poor Muslims.
Gadjiev's colleagues treat his criminal case as political persecution and hold weekly pickets in his support in Makhachkala. In their opinion, Gadjiev is being persecuted because the "Chernovik" had voiced "inconvenient questions" addressed to authorities and law enforcers.
This article was originally published on the Russian page of 24/7 Internet agency 'Caucasian Knot' on September 12, 2023 at 11:38 am MSK. To access the full text of the article, click here.
Source: СK correspondent