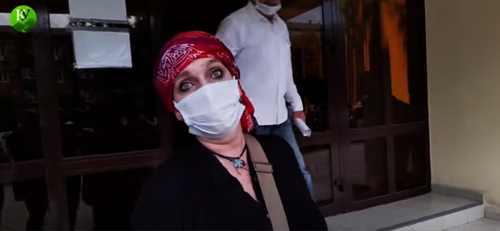 14 September 2023, 22:08
ECtHR recognizes violation of rights of Dagestani female rights defenders
The European Court of Human Rights (ECtHR) has pointed to a violation of the article prohibiting torture and degrading treatment, and obliged Russia to pay EUR 26,000 to each of the human rights defenders, Svetlana Anokhina and Maisarat Kilyaskhanova, who were in the Makhachkala shelter during the visit of law enforcers, who forcibly took away Khalimat Taramova, a native of Chechnya, and also Iraida Smirnova, who was also hiding in the shelter.
The "Caucasian Knot" has reported that on June 10, 2021, in Dagestan, law enforcers and their colleagues from Chechnya came to the apartment for victims of domestic violence (shelter) in Makhachkala and detained Svetlana Anokhina, a journalist, employees of the "Marem" project and the mother of a 15-year-old daughter, who was hiding there from domestic violence. The law enforcers' aim was to take Khalimat Taramova, a resident of Chechnya, away from the shelter; Khalimat had fled Chechnya after complaining of domestic violence. Traumas were fixed on the bodies of Iraida Smirnova, Maisarat Kilyaskhanova and Svetlana Anokhina, who were in the shelter at that time.
Anokhina and the "Marem" volunteers were later accused of resisting the police, but all the detainees were acquitted by the court, which found no crime elements in their actions.
The ECtHR has ruled in the case "Abakumets et al versus Russia", in which applicants' complaints about torture and degrading treatment were united. The ECtHR has obliged Russia to pay EUR 26,000 to each of Makhachkala shelter volunteers, Svetlana Anokhina (Amirova) and Maisarat Kilyaskhanova, as well as to Iraida Smirnova, who was hiding in the shelter from domestic violence.
This article was originally published on the Russian page of 24/7 Internet agency 'Caucasian Knot' on September 14, 2023 at 04:10 pm MSK. To access the full text of the article, click here.
Source: Caucasian Knot