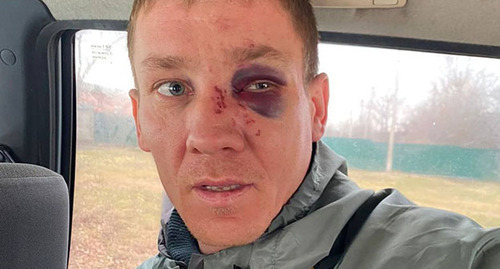 15 September 2023, 22:14
Kuban resident complains about torture
By using torture, law enforcers obtained a confession of theft from Oleg Nosov, a resident of the Krasnodar Territory (also known as Kuban by the name of the main river), who is under arrest. Human rights defenders have appealed the refusal of the Investigating Committee of the Russian Federation (ICRF) to investigate the use of violence by law enforcers.
Law enforcers detained Nosov, a resident of the Kuban village of Gazyr, at night on February 4, 2023. About 15 policemen came to his home, where he was alone with two small children, while his wife was in hospital with their youngest child. Oleg was taken to the police station' and the children were left at home alone, the "Team against Torture" (TaT)* has reported.
At the station, the man learned that he was suspected of stealing some metal, but he refused to admit his guilt. Then, they began torturing him. According to Oleg's story, he was hit in the face, and they broke his nose. In the end, unable to endure pains, Nosov confessed to the theft.
Alina, Oleg's wife, found out about what happened only in the morning. She found a serious wound in their family dog; presumably, law enforcers shot at it with an air gun during her husband's detention.
Lawyers of the TaT* are appealing against the refusal to initiate a criminal case and demand that the investigator conduct a check with Oleg Nosov.
The "Caucasian Knot" has also reported that Fyodor Valko, a watchman from the Prikubansky farmstead, was detained on suspicion of stealing a conveyor belt at a factory; he was beaten up and accused of disobeying law enforcers' demands.
Semyon Sukhinin, a resident of Anapa, complained about being beaten up by law enforcers. The investigator decided not to initiate a criminal case of torture without even talking to him.
*The "Team against Torture" (TaT, formerly the "Committee against Torture" – CaT) was created by the lawyers who had earlier worked for the CaT, which was included into the register of the NCOs performing the functions of foreign agents.
This article was originally published on the Russian page of 24/7 Internet agency 'Caucasian Knot' on September 15, 2023 at 07:22 am MSK. To access the full text of the article, click here.
Source: Caucasian Knot