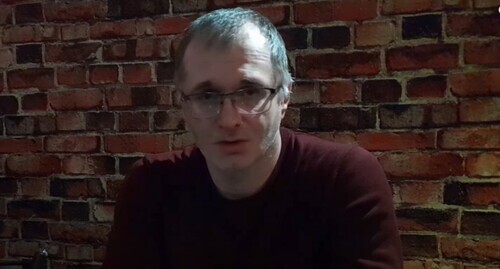 28 September 2023, 04:04
Court finds investigators' inaction in journalist Magomedov's case
A court in Makhachkala has obliged investigators to check the actions of the policemen, who had detained journalist Magomed Magomedov during his solo picket.
The "Caucasian Knot" has reported that on August 23, the Supreme Court (SC) of Dagestan cancelled the decision of the Sovietsky District Court of Makhachkala and sent the case of Magomed Magomedov, a deputy editor-in-chief of the "Chernovik" outlet, who demanded to bring the policemen, who detained him at his picket, to justice, for a new trial.
On July 11, 2022, policemen detained Magomed Magomedov, who went out to a solo picket in Makhachkala in support of his colleague Abdulmumin Gadjiev. The policemen explained the detention by saying that they decided to remove the poster from the eyes of Valentina Matvienko, the head of the Russian Federation Council, whose motorcade was supposed to pass through this place.
According to Magomedov, he is satisfied with the court's decision and treats it as a victory. At the same time, the journalist did not rule out that the investigating authorities would appeal against this decision to the Dagestani SC.
The practice of appealing against controversial policemen's actions is appropriate everywhere; and each such statement disciplines policemen, Idris Yusupov, a journalist of the "Novoye Delo" outlet, has stated. He has noted that filing complaints against illegal actions of any structures should become the norm for the society.
Let us remind you that on January 16, 2023, law enforcers also detained Magomed Magomedov and Idris Yusupov, who intended to hold solo pickets in Gadjiev's defence. Yusupov is also seeking to check law enforcers' actions.
This article was originally published on the Russian page of 24/7 Internet agency 'Caucasian Knot' on September 27, 2023 at 11:22 am MSK. To access the full text of the article, click here.
Source: СK correspondent