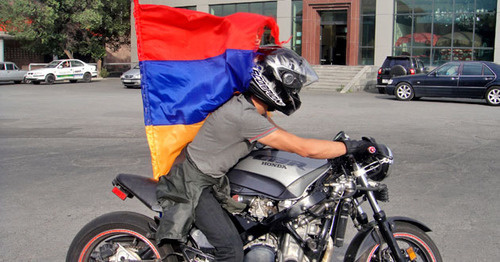 24 June 2015, 20:21
Motor rally complicates traffic in central Yerevan (+video)
According to organizers, over 300 protesters against increase of electricity tariffs have applied to take part in the today's motor rally along the streets of Yerevan. As a result, the motor rally has paralyzed traffic in Mashtots Avenue.
The "Caucasian Knot" has reported that on June 19, in the Armenian capital, activists declared a sit-in strike against the decision to raise the electricity tariffs. On June 22, they began a march to the presidential residence; however, by the morning of June 23, the protestors in Bagramyan Avenue were dispersed by the police. On June 23, a new rally was started in the centre of Yerevan. The protestors demanded from the President to cancel the decision to raise the prices for electricity.
Today, motorists drove through the main streets from Brazil Square in Yerevan, signalling and thus attracting citizens' attention. They stated that by this action they are trying to attract more citizens to join them in their protest held in Bagramyan Avenue.
"We use different ways to hold our protest in Bagramyan Avenue. We are not going to give up and will fight to the end," one of the participants of the rally told the "Caucasian Knot" correspondent.
According to another participant of the action, the number of protesters is growing hour after hour.
Full text of the article is available on the Russian page of 24/7 Internet agency 'Caucasian Knot'.
Author: Tigran Petrosyan, Inessa Sargsyan Source: CK correspondents