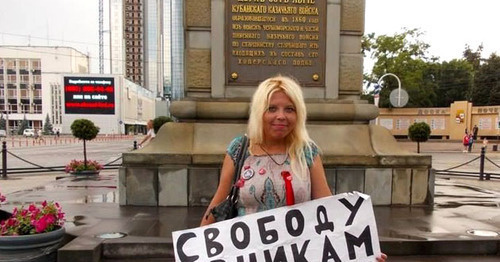 20 April 2016, 13:52
Darya Polyudova goes to penal colony to serve her sentence
Darya Polyudova, a public activist, sentenced to two years of imprisonment for extremism, has announced her departure to serve her sentence in a penal colony-settlement in the city of Novorossiysk.
The "Caucasian Knot" has reported that in December 2015, the Oktyabrsky District Court of Krasnodar found Darya Polyudova guilty of public calls for separatism and extremism. On March 30, the Krasnodar Regional Court dismissed the appeal against the sentence.
Darya Polyudova was one of the organizers of the "March for Federalization of Kuban", which was to be held in August 2014, but failed. The event was to be directed against the Russian policy towards Ukraine.
"According to the resolution, I was obliged to arrive in the colony-settlement No. 10 of Novorossiysk no later than on April 22. However, I decided to arrive earlier, and then the term of sentence would expire earlier," the "Interfax" quotes Darya Polyudova as saying.
On the day before, she filed an appeal to the Presidium of the Krasnodar Regional Court. In her appeal, Darya Polyudova pointed to the violation of the adversarial principle during the court proceedings.
Let us remind you that Darya Polyudova is included in the list of political prisoners compiled by the Human Rights Centre (HRC) "Memorial". The human rights organization "Amnesty International" (AI) recognized Darya Polyudova a "prisoner of conscience" and demanded to release her.
Full text of the article is available on the Russian page of 24/7 Internet agency 'Caucasian Knot'.