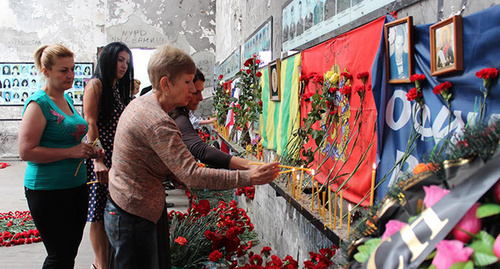 02 September 2016, 10:25
AI condemns detention of mothers in Beslan
The international human rights organization "Amnesty International" (AI) has condemned the detention of mothers of Beslan and called the actions of law enforcers and the court's decision as "a blatant case of legal blindness."
The "Caucasian Knot" has reported that on September 1, in Beslan, the police detained five women who came to a protest action, dressed in T-shirts with accusations against the President of Russia. The detained participants of the action were charged with disorderly conduct. The action was filmed by Elena Kostyuchenko, a special correspondent of "Novaya Gazeta", and Diana Khachatryan, a reporter from the edition named "Takie Dela" (Such Matters), who were taken to the police station together with the protesters.
On September 1, 2004, militants took 1128 people hostage in the Beslan School No. 1. The rescue operation was completed on September 3, 2004. The terror act killed 334 people, including 186 children. 810 people were injured.
"The detention of mothers of Beslan on the anniversary of the tragedy is a blatant case of legal blindness and emotional deafness of the authorities. Everyone has the right to express what he or she wants and in the way that he or she sees fit. This right is not absolute, but any infringement thereof should be justified by the law and pursue a legitimate goal," said Sergey Nikitin, the chief of the AI's representative office in Russia, as quoted by the AI's website.
Members of the AI have also emphasized that the ban for the mothers to require investigation into the deaths of their children on the anniversary of their deaths cannot have any legitimate goal. The AI has also noted that the detained journalists had been finally released without any protocols drawn up.
"The intervention of the law enforcement bodies in the activities of the journalists in Beslan also can be treated in no other way than as an attack on freedom of speech," Sergey Nikitin said.
Full text of the article is available on the Russian page of 24/7 Internet agency 'Caucasian Knot'.