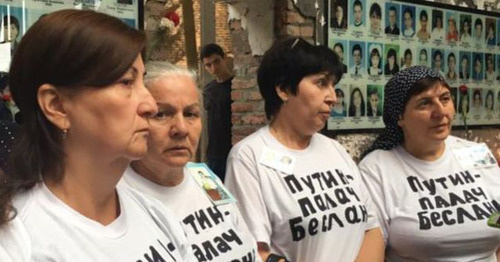 03 November 2016, 20:56
Activists of "Voice of Beslan" blame judge for ignoring their demands
The new judge, who is considering the complaints, lodged by the women-participants of the September 1 protest in Beslan, against the verdict, has upheld the fines imposed on two activists. The trial was accompanied by constant debates of the activists with the judge, who rejected all the motions of the defence, including three disqualification demands.
The "Caucasian Knot" has reported that on September 1, in Beslan, law enforcers detained women involved in a protest action, who came dressed in the T-shirts with accusations against the President of Russia. The Pravoberezhny Court of North Ossetia found them guilty of violating the public order. The Court sentenced four female activists to 20 hours of community service and fined two others 20,000 roubles.
Today the Supreme Court (SC) of North Ossetia has started considering that sections of the complaints lodged by women-activists of the "Voice of Beslan", which deal with accusations of failure to obey policemen.
Igor Begiev, an activists' defender, has urged Judge Umar Alborov to request the full video footage of the action made by the police, as well as the registry book of offenses. According to Mr Begiev, the latter should indicated, where the women were kept for five hours after detention and up to drawing up their detention protocols. However, both motions were rejected by the judge.
Throughout the whole session, the judge has rejected all the defence's motions; therefore, after the first hour of the session, the activists demanded disqualification of the judge.
"I believe that the judge will not be able to make a fair decision, because he rejected all our motions and ignored all our arguments. The judge doesn't want to investigate the violations admitted during drawing up the protocols; therefore, we have doubts about the judge's objectivity," Ella Kesaeva, the head of the "Voice of Beslan", has stated.
Full text of the article is available on the Russian page of 24/7 Internet agency 'Caucasian Knot'.
Author: Alan Tskhurbaev Source: CK correspondent