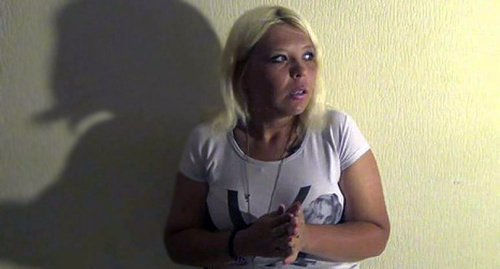 19 April 2017, 14:31
Darya Polyudova denied CER because of guilt non-recognition
The Leninsky District Court of Novorossiysk has rejected the application for conditional early relief (CER) lodged by the Kuban activist Darya Polyudova, who is serving her tern in the Novorossiysk colony on charges of extremism. Her defence will appeal against the judgement.
The "Caucasian Knot" has reported that in December 2015, the Oktiabrsky District Court of Krasnodar found Polyudova guilty of public calls for separatism and extremism and sentenced her to two years in colony.
Darya Polyudova was among the organizers of the march scheduled in August 2014 but never held against the Russia's policy to Ukraine. The Human Rights Centre (HRC) "Memorial" put her on the list of political prisoners.
The colony administration and the CER commission gave Darya a negative characteristic, her mother Tatiana Polyudova has explained.
According to the advocate Irina Biryukova, the court motivated its judgement by the fact that Polyudova had not pled guilty and had not repented.
She has noted that, according to the resolution of the plenum of the Supreme Court of the Russian Federation, the non-recognition of guilt is not the ground to deny the CER.
Also, according to her story, the female boss of the colony told the court that Polyudova was participating in cultural events and was working.
Her mother complained that her daughter is constantly attacked by the colony administration and other convicts.
She added that her daughter's health is deteriorating, because of her chronic diseases, while she is not provided with the due medical care.
Full text of the article is available on the Russian page of 24/7 Internet agency 'Caucasian Knot'.
Author: Natalya Dorokhina, Anna Gritsevich Source: CK correspondents