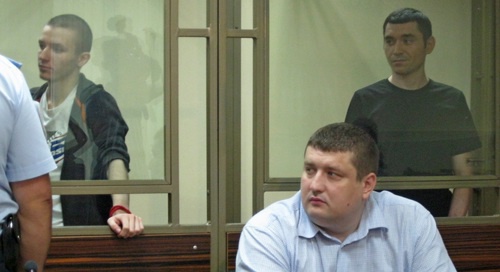 12 August 2017, 02:03
Defence of Panov and Smyshlyaev treats verdict as too severe
The advocates of Arthur Panov, a citizen of Ukraine, and Maxim Smyshlyaev, a resident of Rostov-on-Don, convicted for preparing a terror act in Rostov-on-Don, have announced their intent to appeal against the verdict because of its severity. Later, Panov may be extradited to Ukraine, the Consulate General of Ukraine has noted. Mr Smyshlyaev is innocent and should be released, the Human Rights Centre (HRC) "Memorial" has stated.
The "Caucasian Knot" has reported that Arthur Panov, 19, was accused of preparing a terror act with the use of an improvised explosive device (IED) and of publishing three articles, justifying terrorism, in the social network "VKontakte". Maxim Smyshlyaev, 34, was accused of complicity to Panov. Smyshlyaev has denies his guilt; while Panov has admitted his guilt in part. In September 2016, the HRC "Memorial" recognized Smyshlyaev as a political prisoner.
On August 11, the court sentenced Panov to 8 years in a general-security colony, and Smyshlyaev – to 10 years in a high-security colony.
Sergey Davidis, a Board Member of the HRC "Memorial", has treated the verdict to Smyshlyaev as "flagrant". According to his version, Smyshlyaev pointed to incorrectness of Panov's actions and did not help him at all.
Arthur Panov has stated that he had been subjected to violence during detention; however, investigators did not confirm these facts during a check.
Mr Panov said that he is a citizen of Ukraine; he was born in Krasnodon, Lugansk Region. Since 2014, Krasnodon is controlled by the forces of the unrecognized Lugansk People's Republic (known as LNR).
Arthur Panov has appealed to the European Court of Human Rights (ECtHR) with a complaint about violation of his right to freedom and personal inviolability, as well as the right to a fair trial.
Full text of the article is available on the Russian page of 24/7 Internet agency 'Caucasian Knot'.
Author: Konstantin Volgin Source: CK correspondent