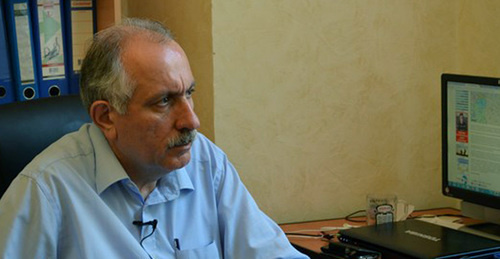 24 August 2017, 18:10
"Turan" director detained in Azerbaijan
Mekhman Aliev, the director of the Azerbaijani news agency "Turan", has been detained in Baku in the case of abuse of power and tax evasion.
The "Caucasian Knot" has reported that on August 16, inspectors from the Azerbaijani Ministry of Taxes started an audit at the office of the independent news agency "Turan". They seized the financial documentation of the news agency and the personal data of journalists.
Mekhman Aliev said that he had been brought to the Yasamal District Police Department.
Let us remind you that on August 7, the Department for Preliminary Investigation of Tax Crimes under the Azerbaijani Ministry of Taxes initiated a preliminary investigation into the case against the news agency "Turan". According to Mekhman Aliev, the news agency is charged with a tax debt exceeding 37,000 manats (22,000 US dollars). The "Turan" has found the tax authorities' actions illegal and filed a complaint to the court.
Full text of the article is available on the Russian page of 24/7 Internet agency 'Caucasian Knot'.
Author: Faik Medjid Source: CK correspondent