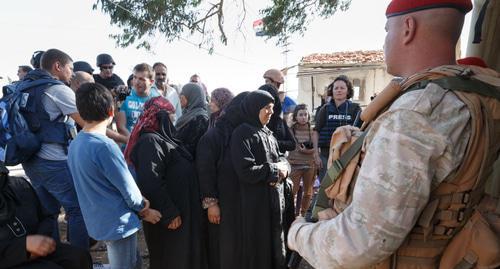 26 September 2017, 10:27
A soldier killed in Syria buried in Chechnya
On September 25, soldier Magomed Terbulatov, who served in a military police unit and who was killed in Syria, was buried in the Nadterechny District of Chechnya.
Last week, Magomed Terbulatov died in Syria during an armed clash with militants. This has been reported today by a source from the Chechen military enlistment office. The source refused to disclose the circumstances of the soldier's death and only noted that the body of the deceased soldier was brought to the Chechen Republic on September 24 and that Magomed Terbulatov was posthumously recommended for granting of a state award.
The source has also explained that starting from December 2016, soldiers and officers from Chechen military police units stay in the territory of Syria, and they perform tasks to accompany military and humanitarian convoys, protect various facilities and maintain order in the streets of villages and towns liberated from militants.
"They stay there for several months, and after that a rotation takes place. Until recently, no deaths of Chechen soldiers or officers have been registered in Syria," the "Caucasian Knot" correspondent was told by a source from the military commander's office for the Chechen Republic.
Full text of the article is available on the Russian page of 24/7 Internet agency 'Caucasian Knot'.
Source: CK correspondent