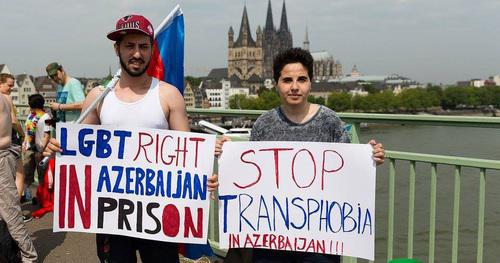 30 September 2017, 14:35
LGBT activists: 50 gays tortured in Baku
Last week, in Baku, more than 50 homosexuals and transgender people were detained and subjected to violence, including torture with electric current. Some of them were arrested for 30 days. This was reported by advocate Samed Rakhimli and activist Javid Nabiev.
The "Caucasian Knot" has reported that on September 20, an official from the Azerbaijani Ministry of Internal Affairs (MIA) explained the detention of gays in Baku by complaints of citizens against homosexuals engaged in prostitution. The MIA's official has also emphasized that "members of sex minorities have never been harassed" in Azerbaijan because of their sexual orientation.
A raid against homosexuals launched in Azerbaijan in September is "unprecedented in scale." Meanwhile, the law enforcers' goal is to detain not only people engaged in prostitution, but homosexuals in general, The New York Times reports with reference to advocate Samed Rakhimli and two activists.
According to Samed Rakhimli, after the detention in Baku, gays and transgender people were subjected to inhuman treatment and torture: electric shockers were used against them, and some of them were shaved. Meanwhile, most detainees do not want to openly file complains about torture, since they hide their sexual orientation from their relatives and friends.
Over the last week, many of the detainees were charged with disobeying the police and arrested for 30 days, activist Javid Nabiev stated.
Full text of the article is available on the Russian page of 24/7 Internet agency 'Caucasian Knot'.