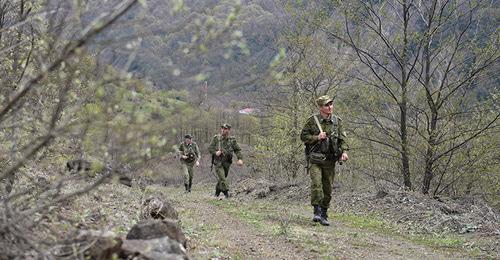 22 March 2018, 17:53
Two residents of Georgia detained on border with South Ossetia
Russian border guards have detained two Georgian citizens in the villages through which the demarcation line passes, reports the Georgian State Security Service.
Iosif Gundishvili and David Gerkeuli, residents of the border Georgian village of Akhalubani, were detained near a church in the neighbouring village of Adzvi. They were accused of illegally crossing the border between Georgia and South Ossetia, the "Echo of the Caucasus" reports.
About the incident, the mission of the European Union was informed, the "News-Georgia" reports.
Earlier, the "Caucasian Knot" has reported that on February 22, South-Ossetian law enforcers detained Georgian citizen Archil Tatunashvili, who suspected of plotting an act of sabotage. Fellow villagers of Archil Tatunashvili said that he was engaged in selling vegetables and the reason for his detention was his refusal to pay a "tribute" for the right to act as a seller.
On February 23, Archil Tatunashvili died in Tskhinvali, and his death provoked a wide resonance in Georgia. On March 21, the Georgian Parliament demanded from the government to create a sanction "list of Otkhozoriya-Tatunashvili" and include in it the persons guilty of crimes against Georgian citizens in Abkhazia and South Ossetia.
Full text of the article is available on the Russian page of 24/7 Internet agency 'Caucasian Knot'.