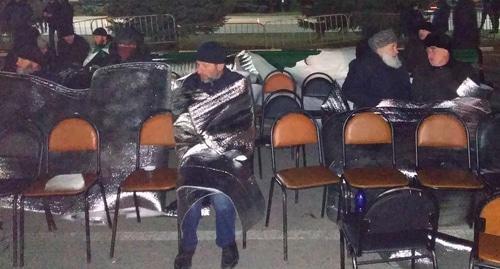 27 March 2019, 09:17
In Magas, protesters refuse to leave square despite threat of dispersal
In Magas, after the police voiced threats to disperse a rally using water cannons, none of the protesters left the square, reported human rights defender Magomed Mutsolgov. Users of social networks noted a peaceful atmosphere in the square.
The "Caucasian Knot" has reported that on March 26, participants in the rally against the law on referendum organized by the social movement "Support of Ingushetia" expressed their distrust to Ingush leader Yunus-Bek Evkurov and demanded his resignation. The rally was sanctioned for one day only, but some of the protesters stayed in the square to continue the action since the morning on March 27.
As of midnight on March 27, law enforcers tried to convince the protesters to stop their action. Law enforcement used loudspeakers installed on cars accumulated in large numbers in the square to call on the activists to disperse, reported Magomed Mutsolgov, the head of the human rights organization "MASHR", a blogger on the "Caucasian Knot".
According to Magomed Mutsolgov, the leaders of the law enforcement bodies threatened the protesters with dispersal of the action using water cannons. "However, neither young people, nor old people, nor women are going to leave the square," the human rights defender wrote in his blog.
This article was originally published on the Russian page of 24/7 Internet agency 'Caucasian Knot' on March 27, 2019 at 03:44 am MSK. To access the full text of the article, click here.
Author: Umar Yovloi Source: CK correspondent