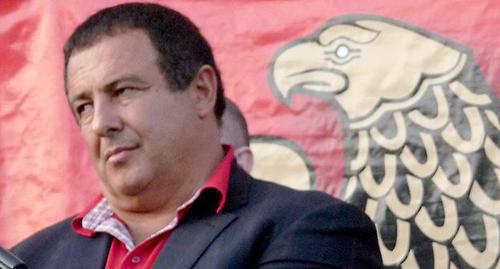 15 June 2020, 20:43
Analysts see political motives in persecution of Armenian politician Gagik Tsarukyan
Political analysts associate the criminal prosecution of Gagik Tsarukyan, the leader of the "Prosperous Armenia" Party, with the possible consolidation of the opposition around him.
The "Caucasian Knot" has reported that on June 14, law enforcers conducted searches at a private house of Gagik Tsarukyan and offices of the "Prosperous Armenia" Party. Members of the party treated the searches as political persecution. Supporters of Gagik Tsarukyan gathered for a protest rally, and 252 people were detained by the police.
Gagik Tsarukyan was questioned in a case on bribing of voters at the 2017 elections and in a case against a gambling company. Furthermore, according to the information of the National Security Service of Armenia, Gagik Tsarukyan may be involved in a fraud with land plots.
Naira Airumyan, an editor of the website "Lragir.am", noted that Gagik Tsarukyan called on the Armenian government to resign. According to her, the opposition forces have intensified, but so far they are acting as separate forces and are not dangerous for Prime Minister Nikol Pashinyan.
"Gagik Tsarukyan has a faulty past. He was involved in illegal enrichment and falsification of the elections. However, when criminal cases are instituted after the appeal to the government to resign, this fact speaks of a political motive," claimed Armen Vardanyan, an expert at the Armenian Institute of International and Security Affairs (AIISA).
Besides, according to the political analyst, the rating of Nikol Pashinyan was negatively affected by the coronavirus epidemic. The expert does not rule out protests that can result in clashes with supporters of the Prime Minister.
Boris Navasardyan, the head of the Yerevan Press Club, associates the criminal prosecution of Gagik Tsarukyan with the challenge he had voiced to the authorities.
This article was originally published on the Russian page of 24/7 Internet agency 'Caucasian Knot' on June 15, 2020 at 04:42 am MSK. To access the full text of the article, click here.
Author: Tigran Petrosyan Source: CK correspondent