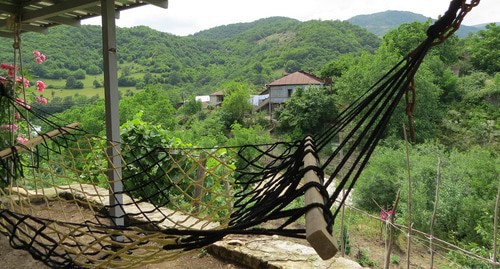 19 June 2020, 23:54
Nagorno-Karabakh tourism industry stays on verge of bankruptcy because of pandemic
In Nagorno-Karabakh, the tourist flow and revenues of the tourism industry fell by 90 percent because of the coronavirus epidemic, entrepreneurs complain. The authorities of the region report a 76 percent drop in the number of tourists.
"Most of our clients were tourists. However, the business stays idle because of the pandemic, and we suffer losses," the "Caucasian Knot" correspondent was told by Alla Arzumanyan, an owner of a cafe in the town of Askeran. According to the businesswoman, every tourist season, her cafe was visited by about 1600 foreign guests annually. However, no tourists came this year.
The business of Stepan Grigoryan, an owner of a guest house in the village of Badara in the Askeran District also suffers losses. The businessman arranged a bakery and a greenhouse with eco-friendly vegetables. He also conducts walking sightseeing tours around Nagorno-Karabakh.
"Last year, a lot of tourists came to our place, and there was no free day for the whole season. However, this year, no tourists came, and our business suffers losses," the businessman complained.
If the authorities do not cancel the self-isolation regime, the flow of tourists may fall almost completely, believes Artak Grigoryan, the head of the Tourism Department at the Ministry of Military-Patriotic Education, Youth Affairs, Sports, and Tourism of Nagorno-Karabakh.
At present, the Tourism Department led by Artak Grigoryan promotes Nagorno-Karabakh and its attractions online in order to increase the inflow of tourists after the pandemic.
This article was originally published on the Russian page of 24/7 Internet agency 'Caucasian Knot' on June 19, 2020 at 07:39 am MSK. To access the full text of the article, click here.
Author: Alvard Grigoryan Source: CK correspondent