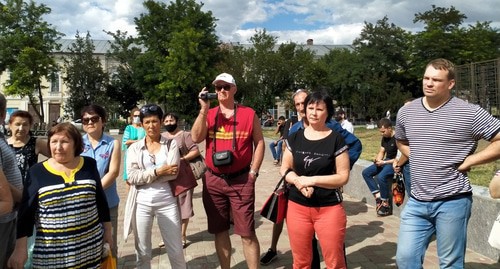 17 August 2020, 18:00
Astrakhan residents support protests of Khabarovsk and Belarus
Residents of Astrakhan held solo pickets and a gathering in support of Belarusian citizens on protest against the presidential election outcome, as well as residents of Khabarovsk who stood up for arrested Governor Sergey Furgal.
In the evening on August 16, about 10-12 people came to Naberezhnaya (Embankment). Of them, four stood in solo pickets.
Blogger Oleg Shporin told the "Caucasian Knot" correspondent that he learned from the Facebook social network about the planned action on Naberezhnaya to be dedicated to the events in Khabarovsk and Belarus. "I have come to support the people who take part in the action here and, possibly, to take part in a discussion," the blogger said.
Magripa Serikova, a participant of the action, stood in a picket. In her hand, the activist was holding a poster reading: "Khabarovsk, Astrakhan supports you." "I support Khabarovsk, because its residents have shown the whole country and even the whole world that we should fight for our rights and not be afraid to take to the streets. We should support residents of Khabarovsk, because the situation like they [have] is everywhere, throughout the country," Magripa Serikova told the "Caucasian Knot" correspondent.
This article was originally published on the Russian page of 24/7 Internet agency 'Caucasian Knot' on August 17, 2020 at 07:02 am MSK. To access the full text of the article, click here.
Author: Alena Sadovskaya Source: CK correspondent