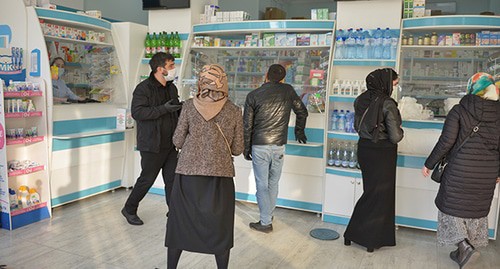 26 September 2020, 12:39
Residents of Chechnya treat "dry law" as reason for drug addiction growth
The ban on sale and reprimands for using alcohol in Chechnya are pushing young people to find an alternative to a glass of high quality wine in the use of pharmaceutical preparations that cause drug intoxication, local residents believe.
The "Caucasian Knot" has reported that on September 22, the Urus-Martan ROVD (District Interior Division) reported on the Instagram that Valid Batsilov, the head of the ROVD, had held a preventive conversation with the local residents, who "were noticed for using narcotic and psychotropic drugs, as well as driving cars while intoxicated."
Drug addiction is one of serious problems in Chechnya, says Umar Khekhoev, the Imam of the Alleroi village mosque. In his opinion, it is necessary to constantly work with young people, since often young people from wealthy families, idlers, who have nothing to do, become drug addicts.
The ban on sale of alcohol in Chechnya was a wrong decision, Umar Isaev, a former law enforcer, believes. "Some people buy alcohol in Dagestan or Vladikavkaz; and often these drinks are homemade and of poor quality ... More and more often, they're using narcotic pills instead of light alcohol, which negatively affects young people's health," he said.
Drug addicts, as a rule, are "those who live without worries, or those who are considered to be needy and poor," Mr Isaev has concluded.
Earlier, residents of Chechnya used to drink high quality wine, but drunkenness never flourished in the republic, Zarema recalls.
Mainly young people become drug addicts because, after graduating from school, they cannot get a job, and they have no funds to go to look for work in other regions, Rumisa believes.
This article was originally published on the Russian page of 24/7 Internet agency 'Caucasian Knot' on September 26, 2020 at 05:29 am MSK. To access the full text of the article, click here.
Source: CK correspondent