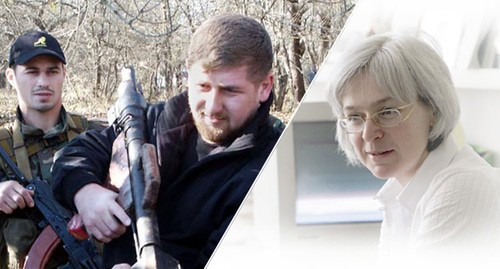 08 October 2020, 09:31
Audio version of Politkovskaya's article recalls her meeting with Kadyrov
On the anniversary of the murder of the journalist, Anna Politkovskaya, an audio version of her report was made public, saturated with psychologically hard scenes from her trip to Ramzan Kadyrov's residence in 2004, and from her interview, at the end of which she expected gunfire in her back.
October 8 marked the 14th anniversary of Politkovskaya's murder; a commemorative action was held in Moscow on that day.
Anna Politkovskaya gave her last interview to the "Caucasian Knot" correspondent an hour and a half before her tragic death. In the interview, she commented on Kadyrov's career prospects.
Ramzan Kadyrov received Politkovskaya in Tsentoroi, his ancestral village, later renamed into Akhmat-Yurt in honour of his father. Natalia Estemirova, a human rights defender, who helped Anna during that trip, recalled that after that interview, both women began to seriously fear for their safety.
Anna Politkovskaya, known for her articles about the war and human rights violations in Chechnya, was killed in Moscow on October 7, 2006. In the interview with Politkovskaya, Kadyrov directly called her "an enemy."
This article was originally published on the Russian page of 24/7 Internet agency 'Caucasian Knot' on October 7, 2020 at 07:26 pm MSK. To access the full text of the article, click here.