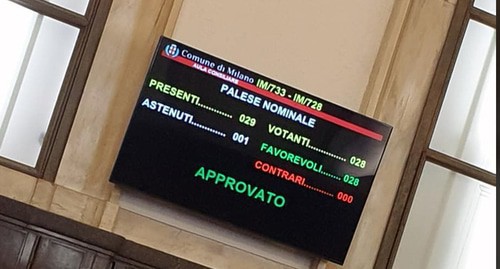 16 October 2020, 14:45
Milan recognizes Nagorno-Karabakh's independence
On October 15, the deputies of the Milan City Assembly recognized the independence of Nagorno-Karabakh and condemned Azerbaijan's actions in the Karabakh conflict zone.
The "Caucasian Knot" has reported that Armenian authorities had called on the international community to recognize the independence of Nagorno-Karabakh, after which Azerbaijani President, Ilham Aliev, stated that the country's authorities would break diplomatic relations with those countries that would recognize the independence of the region.
The Milan City Assembly has condemned the aggression against Nagorno-Karabakh and recognized its independence, Matteo Forte, a member of the Assembly, wrote in his Facebook page at night on October 16. "In the presence of the Honorary Consul of Armenia, the City Assembly has just approved my proposal to condemn the Turkish-Azerbaijani aggression and recognize the Republic of Artsakh," Mr Forte wrote in the social network in the Italian language, as translated by the "Caucasian Knot".
It follows from Matteo Forte's publication that 28 out of 29 deputies took part in the voting. One of them abstained from voting, the rest voted for the recognition of the independence of Nagorno-Karabakh.
This article was originally published on the Russian page of 24/7 Internet agency 'Caucasian Knot' on October 16, 2020 at 10:19 am MSK. To access the full text of the article, click here.