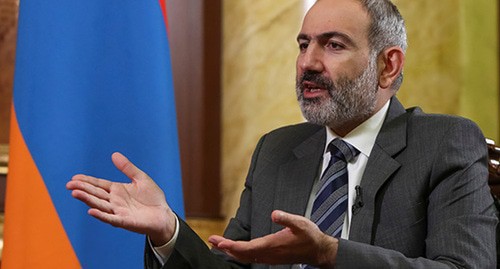 12 November 2020, 18:52
Nikol Pashinyan calls peace agreement a rescue of 25,000 soldiers
After the capture of Shushi by the Azerbaijani troops, 25,000 soldiers of the Defence Army could have been cordoned off and killed, said the Armenian Prime Minister Nikol Pashinyan, while explaining the signing of an armistice agreement with Azerbaijan.
The "Caucasian Knot" has reported that the agreement between Russia, Azerbaijan, and Armenia on the cessation of the hostilities in Nagorno-Karabakh, which entered into force on November 10, provoked riots and protests in Yerevan.
During his today's address to the nation, The Prime Minister of Armenia has announced that the military personnel insisted on an urgent truce. "The war began on September 27, and it ended with the signing of a document which provoked public disappointment and many questions, answers to which are expected from me. But why has this unbeneficial document been signed? This has happened after the Ministry of Defence (MoD) and the General Headquarters of the Armed Forces reported an urgent need to stop the war, and the president of Artsakh (Nagorno-Karabakh, – note of the 'Caucasian Knot') said that we could lose Stepanakert within hours," the Prime Minister of Armenia said.
According to Nikol Pashinyan, the loss of Stepanakert would be followed by the loss of the cities of Askeran and Martakert, deprived of defensive fortifications. There were no sufficient combat-ready forces to defend those cities, the Armenian Prime Minister emphasized. "With the loss of these cities, our defensive areas would be surrounded by the enemy. More than 20,000 soldiers and officers would find themselves being cordoned off with the prospect of death or capture. The fall of Karvachar and Kashatagh would also be inevitable," Nikol Pashinyan said.
The Prime Minister of Armenia stated that he put the lives of soldiers above his political career. "I preferred the lives of 25,000 soldiers to my career and my life," claimed Nikol Pashinyan as quoted by the "Sputnik Armenia".
This article was originally published on the Russian page of 24/7 Internet agency 'Caucasian Knot' on November 12, 2020 at 01:59 pm MSK. To access the full text of the article, click here.