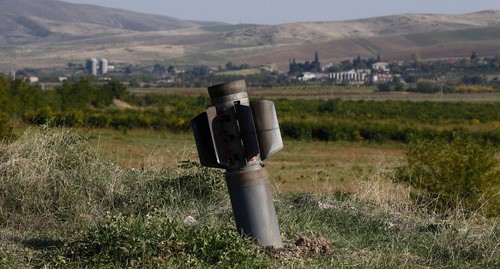 10 November 2020, 11:10
Azerbaijan, Armenia and Russia sign ceasefire in Karabakh conflict zone
The ceasefire in the Karabakh conflict zone comes into force today, November 10; the respective declaration was signed by Presidents of Azerbaijan, Armenia and Russia. The parties have also agreed on the deployment of Russian peacemakers in the region.
The "Caucasian Knot" has reported that on November 8, Ilham Aliev announced the capture of the key city in Nagorno-Karabakh – Shusha (the Armenian name is Shushi).
The leaders of Azerbaijan, Armenia and Russia have signed a statement on a complete ceasefire and end of military operations in the Karabakh conflict zone, the TASS reports.
"On November 9, President of the Republic of Azerbaijan Aliev, Prime Minister of the Republic of Armenia Pashinyan and the President of the Russian Federation signed a statement declaring a complete ceasefire and termination of all hostilities in the Nagorno-Karabakh conflict zone, starting from 00:00 a.m. Moscow time on November 10, 2020," the TASS quotes Mr Putin's statement.
The statement says that the parties remain in their occupied positions; and along the contact line in Nagorno-Karabakh and along the corridor connecting it with Armenia, a peacemaking contingent of the Russian Federation is deployed. Besides, all refugees return to Nagorno-Karabakh under the control of the UN High Commissioner for Refugees; an exchange of prisoners of war, detainees and casualties' bodies is undertaken, and all the economic and transport links in the region are unblocked.
This article was originally published on the Russian page of 24/7 Internet agency 'Caucasian Knot' on November 10, 2020 at 02:17 am MSK. To access the full text of the article, click here.