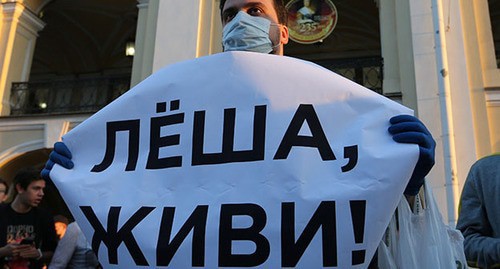 25 December 2020, 08:31
Meduza: participants in assassination attempt on Navalny had flown to Chechnya
The law enforcers, whom the authors of the investigative journalism believe to be involved in the poisoning of opposition leader Alexei Navalny, had flown to Grozny and Vladikavkaz and could carry out special missions there, Hristo Grozev, a Bellingcat journalist and the author of the investigation into the attempt on Navalny, has suggested in his interview with the Meduza.
The "Caucasian Knot" has reported that in August, Alexei Navalny, an opposition leader, fell into a coma after being poisoned at the Omsk airport. On September 7, Navalny, taken out for treatment at the "Charite" Berlin-based clinic, was driven out of an artificial coma; and his health condition improved. Navalny said that the Russian authorities were behind the attempt on his life.
The law enforcers, who, according to the journalistic investigation, poisoned Alexei Navalny, may be involved in other poisonings and special missions, including in Northern Caucasus, Hristo Grozev, a journalist from Bulgaria, one of the authors of the investigation, has suggested.
"Now, we'll analyze other trips of this group and compare them with other unknown and known poisonings <...>. There is a lot of work to be done. It is impossible that such a staff with such experts existed only because of Navalny alone. And their other flights to Vladikavkaz and Grozny show that there were other targets," Mr Grozev said in an interview published by the Meduza.
This article was originally published on the Russian page of 24/7 Internet agency 'Caucasian Knot' on December 24, 2020 at 08:34 pm MSK. To access the full text of the article, click here.